Amenities
Welcome to AIM HIGHER Stockton! Our newest AIM HIGHER location officially opened its doors in 2018! Come take a tour of our state of the art facility. We are located on East March Lane near West Lane which puts us close to shopping, parks, and libraries. Our Program offers Employment Training and many community service volunteer opportunities.
---
~ Find us on Social Media ~
Facebook: facebook.com/AimHigherInc
YouTube: aimhighermedia
---
Gorgeous & Spacious facility
Employment Training Program
Multi-Media Center
iPads available for use
Close to shopping & parks
Client Council
Client Choice
Paid Vocational Opportunities
Zumba classes
Access to Public Transportation
Location
Aim Higher Inc
1541 E. March Lane, Suite B
Stockton, CA 95210
209.292.5225 phone
209.992.5994 fax
Tiffany Stevenson
Program Director
Aim Higher Inc
1541 E. March Lane, Suite B
Stockton, CA 95210
209.292.5225 phone
209.992.5994 fax

Tiffany Stevenson
Program Director

Whats Happening In Stockton...
Stockton News
AIM HIGHER Stockton celebrated the end of summer by hosting a Luau! Staff and Consumers worked hard to make this event a huge success. They served delicious…
Read Full Story
More News
Testimonials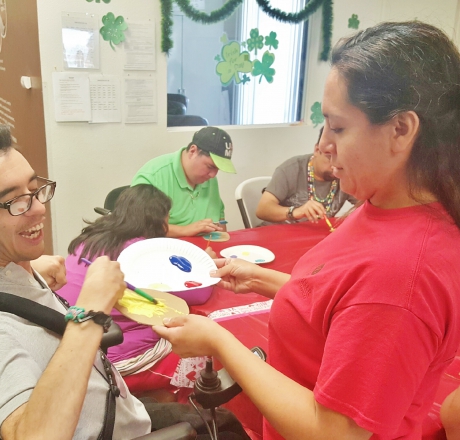 I love the interaction that I get with the consumers being a Covina Program Instructor. Its great being part of their progression and seeing them achieve their goals! My favorite class is Arts and Craft because you get to see their imaginations run wild. I always encourage them to keep going and not to give up because the possibilities are endless!
-John, Covina Program Instructor