Amenities
Here at Elk Grove we pride ourselves on giving amazing results to the clients! Music and Arts is where we outshine and our clients exceed in talent. You'll find that every one of our staff is properly trained to assist with each client's individual needs and necessities. Our goal is to make sure each client obtains the proper enlightenment that can be used in any aspect of their daily lives while in a fun, enriching environment!
---
~ Find us on Social Media ~
  Facebook: facebook.com/AimHigherInc
Aktion Club Facebook: facebook.com/EGAktion
YouTube: aimhighermedia
---
Gorgeous and Spacious Facility
"Dug-Out" Client Store
Paid Vocational Oppurtunities
Close to Shopping & Parks
20-Passenger Bus for Outings
Class B Drivers
Annual St Patricks Parade Participation
State of the art Music Room
Certified Dance Instructor
Monthly Performing Arts Productions
Crocker Art Museum Partnership
Twelve Computers
Fitness Program
Client Council
Location
3151 Dwight Rd
Suite 100
Elk Grove, CA 95758
916.391.4668 phone
916.391.4670 fax
Vean Loeun
Program Director
3151 Dwight Rd
Suite 100
Elk Grove, CA 95758
916.391.4668 phone
916.391.4670 fax

Vean Loeun
Program Director

Whats Happening In Elk Grove...
Elk Grove News
Weekly Highlights Elk Grove Weekly Highlights showcasing what each component has been doing during the week of March 7th The seasons are flying by…
Read Full Story
St. Patrick's Day parade Happy early St. Patrick's Day from our friends at AIM HIGHER Elk Grove. Earlier today they participated in the annual St. Patrick's…
Read Full Story
AHEG Will be having another awesome Christmas Party on Dec. 19th!
Read Full Story
More News
Testimonials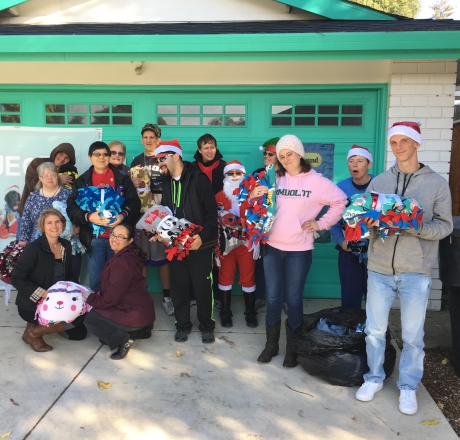 I absolutely love working at AIM HIGHER, it's wonderful to be able to create an environment that fosters many aspects of improving the lives of our clients. I am so happy to be able to work for a company that takes pride in being able to raise the bar of day programming. It's amazing to be able to witness the growth of each of our clients on a daily basis. 
-Ashley, Orange Grove Program Director