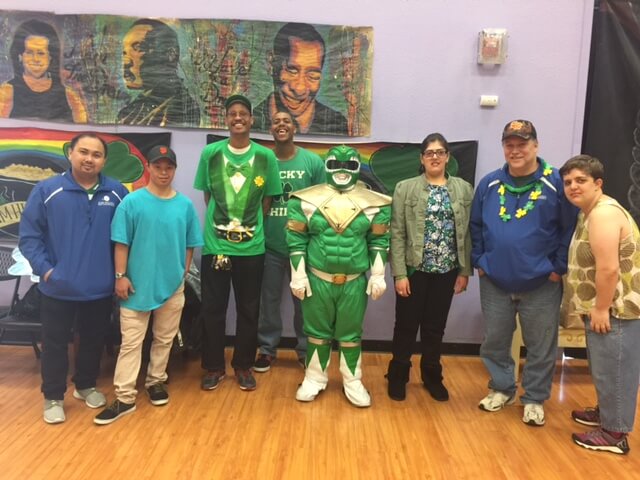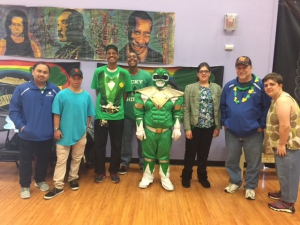 Weekly Highlights
Elk Grove Weekly Highlights showcasing what each component has been doing during the week of March 7th
The seasons are flying by and St. Patty's day is approaching. In Elk Grove the whole program is going crazy with green spring decorations for the St. Patrick Day festivities.
Arts and Expressions
Art & Expressions prepared the posters for our annual parade this year, as clients and other staff cut out thousands of mini shamrock's to make fun hats, necklaces and other decorations for their costumes.
Life Skills
Life Skills carried on with the Spring festivities by adding spring crafts to their curriculum. A group headed to HOBBY LOBBY to hand-pick their spring crafts personally! Clients returned with some good stuff and great ideas! Continuing with their learning about spring they prepared fresh spring rolls. All the vegetables were cut and hand-rolled by clients while assisted by staff. When a client was asked about his favorite part about this week, his response was "The SPRING ROLLS!"
Vocational
This week in Vocational, clients got a chance to run their own business. After coming up with a product, business plan and slogan, clients got a chance to put their advertising and customer service skills to the test! The clients set up their posters in the multi-purpose room and invited the other clients to see their businesses.
One of a client's highlight of this week was the impromptu karaoke jam session they had in Suite 300. The clients got to pick out their favorite tunes and perform in front of everyone. The client who is also in the dance troupe and performing arts had a lovely dance to go along with her performance.
Suite 300
Suite 300 also discussed the skeletal system this week! They learned about the different deformities that can happen to your bones and spine. After learning about the anatomy of the human body and bones they constructed a diagram of the skeleton system out of q-tips.
Fun Friday
Because the rain kept us in doors, the clients enjoyed a funny movie: THE MASK. You could hear the laughter from the clients from the other side of the building. In the afternoon, the clients voted on a dance party with a live band. The rain disappeared just in time for the buses to arrive and the clients traveled home to rest and prepare for another fun, eventful week here in Elk Grove!