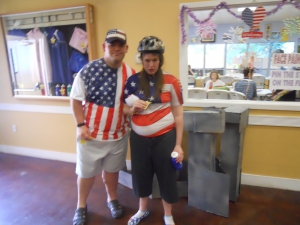 David & Chelsea in their American Flag shirts!
4th of July at AIM HIGHER
A very, VERY eventful week here at AIM HIGHER Roseville. On Monday, we celebrated Staff Appreciation Day hosted by our Consumer Council. In the morning, staff were welcomed with Starbucks, pancakes, eggs and a yogurt bar! Everyone loved it! In the afternoon, the Consumer Council passed out awards to the staff and clients took turns speaking about each and every staff.
On Tuesday, our clients performed their hearts out in the Romeo & Juliet Musical. We put on 2 shows, one in the afternoon for the clients and another one at night for our parents and service coordinators. Everyone loved Performing Art's twist to the play! We had a great turn out! On Wednesday, we celebrated summer and had an awesome Day Dance!
Lastly, RV celebrated Independence Day with a Carnival! Clients spent all morning playing carnival games and earning their tickets for the afternoon. After lunch, clients were able to dunk Michael, Chong and Edmond in the dunk tank! At the end of the day, clients used their tickets in our prize booth, cotton candy and popcorn!
Happy 4th everyone! Have a safe one!! Also check out our Youtube video!!