St. Patrick's Day Parade
by Noah and Mouse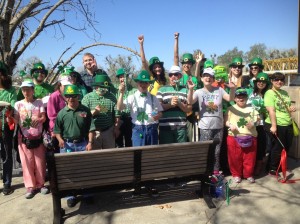 This was our first time in a parade. Our favorite part was being watched by lots of people.
We walked and waved. We had lunch first, and then practiced our drums, and then we
played the drums the entire parade.
There were a lot of Irish dancers and we marched to Carlos Santana songs. We saw many fire trucks and firemen. We wore a lot of green, and Noah even put green shoelaces in his shoes!
We are excited to do it again next year.
Doug's Family Recipe: Easy Mexican Chicken Pizza
Ingredients:
– 1 10 oz. premade pizza dough
– 1 c. re-fried beans
– 1/2 c. salsa
– 1 ½ c. shredded Monterey
Jack cheese
– 6 oz. cooked chicken breast
strips
– 1/4 c. diced Italian plum tomatoes
Directions:
-Preheat oven to 425 degrees
-Spray a 12 or 14 inch pizza pan with non-stick spray. Place dough at the center of the pan.
Press dough with hands to form a 12 inch round crust. Bake at 425 degrees for 8 minutes, or
until the crust begins to brown.
– Remove the partially baked crust from the oven. Spread the beans over the crust. Spread salsa over the
beans. Sprinkle with cheese, then top with chicken and tomatoes.
-Return the pizza to the oven. Bake an additional 9 –12 minutes, or until the edges of the crust are golden
brown and the cheese is melted. Cut into slices and serve.
Serves 4.
Irish Music Playlist
by Parham and Caitlin
1. Enya – "May it Be" (2001)
2. The Cranberries – "Linger" (1993)
3. Thin Lizzy – "Whisky in the Jar" (1973)
4. The Chieftains – "Carrickfergus" (1974)
5. The Pogues – "If I Should Fall from Grace with God" (1988)
6. Sinead O'Connor – "Nothing Compares 2U" (1990)
7. B*Witched "C'est La Vie" (1998)
Poem of the Month
Written by Shelly
I like the Sacramento Kings
To stay in Sacramento.
The Kings are very good.
Why are the Kings good?
They have new players.
The Kings are cool.
They win games at home.