AH Covina receives much deserved attention from local paper and praise from participants, family members and staff at the end of first year
Covina adult center celebrates first year
By Claudia S. Palma, Staff Writer
Posted: 06/22/2011 09:00:00 PM PDT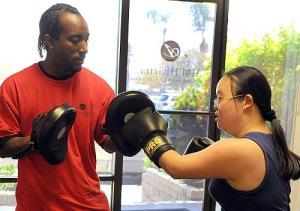 Every day is a celebration at Aim Higher Adult Day Program center in Covina.
Adults, from ages 18 to 56, are seen smiling as they learn to dance, play wii video games or taking part in other activities.
These adults have various mental or physical disabilities, but it doesn't stop them from having fun.
Aim Higher Covina center focuses on health and wellness. Each adult is part of a group and each group rotates taking part in a different physical activity or game.
"They don't realize they're working out," said Robert Licon, program director. "We try to make it fun for them."
Aim Higher Covina is celebrating its first anniversary this month serving 52 adults, or clients as they are known to the instructors and staff.
"Other programs restrain them a lot," said instructor Carlos Orellana. "We challenge them to do more."
Adult day programs are state funded and designed to help men and women over the age of 18 develop skill sets and help them work towards independence.
There are a variety of day programs offered to the different scopes of mental and physical disabilities. Their abilities are categorized from low functioning to high functioning.
Some programs focus on continuing education, others are like work programs to earn money. Some are art focused and some provide a mix of all these programs.
The first Aim Higher Adult Day Program opened in 2005 in Roseville, Northern California, by Ed and Marina David, to
offer a mix and improve the quality of life for adults with disabilities.
"We try to do cutting edge programs, something to enhance their lives," said Licon. "There's a stereotype with (mild retardation). They used to keep them more sheltered but this is what they're capable of."
At Aim Higher, a Client Council meets to come up with ideas, the clients want to take part in, and then bring them to the staff.
"(The staff) helps to facilitate ideas for them, what's feasible for us, but we don't just do it all for them," said Licon.
Clients at the center enjoy being a part of the process and take pride in the center. A few high functioning clients help to clean the facility and help in other ways and earn a paycheck.
"I like helping vacuum and clean. I like the exercises," said client Isabella Ayala. "I like this place."
A sentiment felt throughout the center with clients, parents and staff alike.
DeniSue Callahan's daughter, Shannon, 28, was one of the first few clients at the center. Shannon had been part of another day program in El Monte but Callahan said she likes the physical activity her daughter gets at AIM.
"She likes the exercises, that's not normal," said Callahan of Glendora. "It gets them up and moving. I don't worry when she's here, she's taken care of."
Being safe and comfortable is something Margarita Fernandez was concerned about when bringing her grandson Ricky, 23. Ricky's mother passed away 15 years ago.
"I didn't want to take him to a program that was like a convalescent home where everyone is in a chair," she said in Spanish. "This place is unique. There is a lot of compassion here, that's very important."
Fernandez also loves that she can come in and observe or take part whenever she wants.
"I see him very happy," said Ricky's sister, Rebecca Castaneda.
Even though the center is only open to clients from Monday through Friday, there are many who would enjoy coming in on a weekend as well.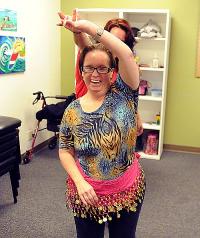 "He didn't want to go every day (to a previous adult day program)," said Adelina Gomez of her son Eric, 26. "I see a big difference here. It's comfortable for him. He wants to come every day."
Gomez said she likes that her son is learning to stay physical and fit and learns about nutrition at the center which helps with health issues he has.
"It's everything for him. There's learning, there's history," she said.
Eric was also one of the first few clients and Gomez admits she was hesitant at first.
"I've been to so many programs, some even made me cry," she said. "When I first came here it was new and there was not many (clients) but I said I'm gonna do it.
It's the best choice I made for him."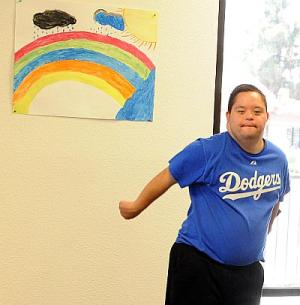 For Liz Sommerville, the variety of activities was the deciding factor for bringing her daughter Cassie to the center.
"It's very well rounded," she said. "They take pride in their environment and they keep moving (physically)."
At Aim Higher, the staff work with all the clients to help them participate in as much of the activities as possible, despite their disability.
"It doesn't matter their ability, we will find a way for them to participate," said instructor Marianne Steadman. "This is probably one of the most innovative programs I've worked for. The ideas that come out of here are amazing."
Including all the clients is important to Martha Cruz and her daughter Hope, 38, who is wheelchair-bound as well as mute.
"Hope is very particular and so am I," said Cruz of Baldwin Park. "I was ready to pull her out of the previous program and keep her at home with me, then we came here."
Cruz said her daughter was always reserved and even though she can't speak, still expresses how she feels in her actions and gestures.
"She's different here. She reaches out to people, touches them, she didn't do that before," said Cruz. "She feels comfortable and I feel comfortable. All of my wishes for her here have been met."
Cruz is pleased with how the center has changed her daughter and just as other center parents, wishes there were more places like Aim Higher and their staff.
"I'm very selective with the staff," said Licon. "It's more the fulfillment you get than the money."
Licon said they work constantly to be sure everyone, clients and parents, are happy and comfortable there.
"I tell the parents, if you see something wrong, let me know. Feedback from family and clients is important."
There are five Aim Higher centers in Northern California but the Covina center is the only one in Southern California.
Aim Higher Covina just applied to increase the number of clients they can serve to 60, but with state funds being cut across the board, Licon hopes to get at least four more.
"The need is there, it's just a matter of funding," said Licon.
Even despite low funds, Licon and his staff do what they can to create experiences for the clients.
"The staff goes above and beyond," said Licon. "The staff bring in their own music for dance class, their own equipment, kickboxing gloves, for the classes."
For staff member Joseph McLaughlin, he likes keeping healthy and happy with the clients.
"There's a lot of respect here," he said. "They're happy, it makes my day better."
Aim Higher Covina is overseen by the San Gabriel/Pomona Regional Center, which works with the California Department of Developmental Services, the agency through which the state provides services and supports to children and adults with developmental disabilities.
For more information, contact the Covina office at 626-339-0400.
626-962-8811, Ext. 2110