Elk Grove – April 4, 2014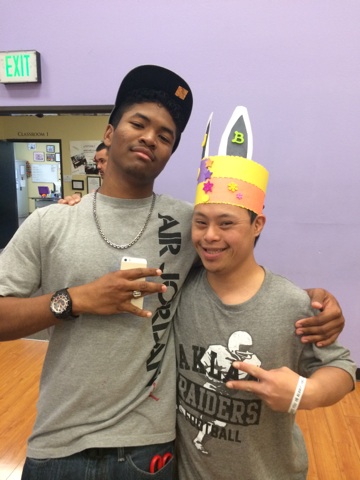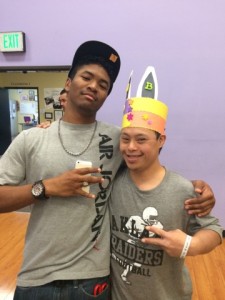 This week at AIM HIGHER we enjoyed a festive and playful spirit week in celebration of the changing seasons. Spring was the theme for the week's activities and each room filled morning activities for their respective day. Room one was the first to ring in the celebrations by rounding up all of the clients together in our multipurpose room to create 80+ funny and amazing hats! Then after crafting with staff and peers they lined up in front to be awarded for the most interesting creations. Some of the winners included Cristina with her lovely crown of a vine of tissue paper roses.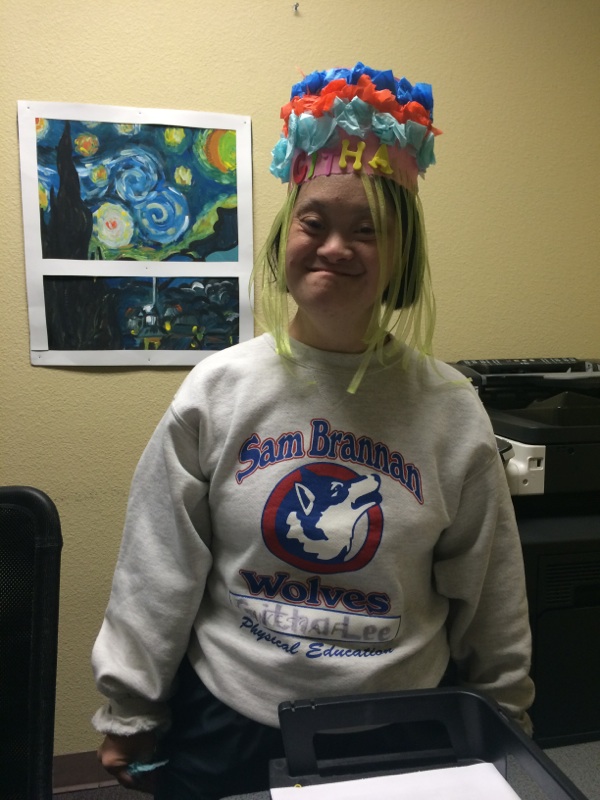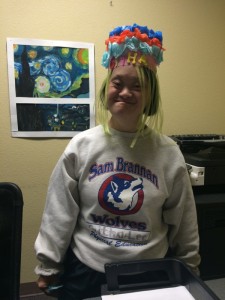 Another winner was Githa with her amazing hat lined in perfectly spaced and curled ribbons which danced as she walked up to collect her prize. "The clients loved their hats so much they sported them with pride for the rest of the day" said life skills instructor Sylvia.
Room two set about to make brightly colored tie dye shirts which were reminiscent of rainbows! Each client brought in the article of clothing they wanted to decorate and were assisted by the staff to bring their ideas and creativity to life. The result was a whole lot of color and excitement whirring throughout for the remainder of the day and a functional souvenir for each participant. On the topic of color and excitement whirring throughout, Room three brought a very special surprise to Aim Higher Elk Grove to celebrate this spirit week… the circus!!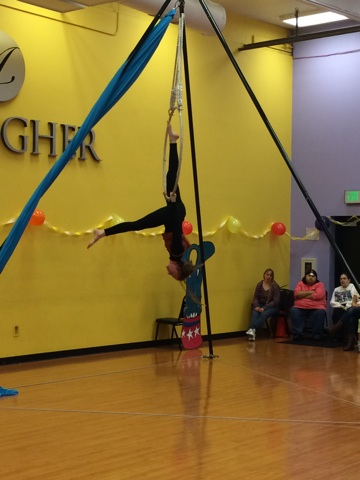 Our new Art Program Instructor Shalimar who was a director for a circus in Philadelphia and who teaches aerial acrobatics here in Sacramento brought her fellow performers to share their talents and 14 foot aerial rig with us. Some of the feats included, aerial hoop, floor acrobatics and even a unicycling act with the Arts & Expression Instructor Emanuel! Of course now circus show is complete without popcorn and balloons, so we had that too! Then after the performances the clients enjoyed having their faces painted and playing with a giant 24 ft rainbow parachute with handles, full of balloons. We took turns sitting in the middle as it was ruffled, or switching spots by running underneath as we tossed it up in the air. "The parachute was really fun! You could tell that the clients and staff really enjoyed themselves" said Instructor Theresa H.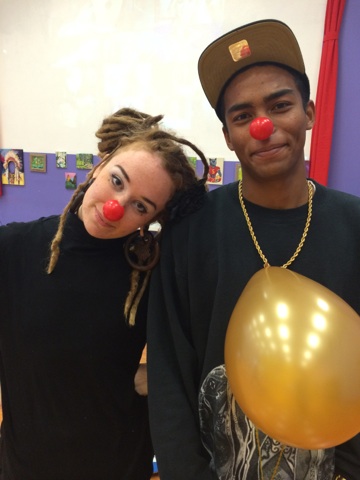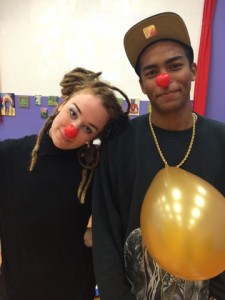 Even amongst the big fun and games at Aim Higher EG we always make note of the wonderful steps we take here, no matter how small. During our afternoon dance party this week many of the staff enjoyed helping get the clients excited and active. Mari, an instructor even noted "As I held Ying's hand I could feel her tightening and releasing her grip in tempo with the music, she seemed so awake and excited, which I really appreciated." This spirit week had everyone full of life and action, a truly positive and joyful way to bring in the warm weather and celebrate the new growth of spring.