Weekly Highlights – Elk Grove (Week of April 21-25)
Whether it was raining or shining we did not let the weather dictate our moods! Still getting in the spring spirit here at Elk Grove, all the clients worked anxiously to finish their spring-like projects. The clients in room one continued on their journey through the fields of the Sac State Arboretum and brought more factual information to share with us all.
Since the clients in room 2 were trapped inside on their outing day, due to cold weather, Functional Education Instructor Mari came up with the great idea to have the trees and plants come to life inside. The clients used old paper bags and colored tissue paper to make their version of a bonsai tree. "The clients really enjoyed themselves" Mari explained, "I thought this would be a great idea since we are unable to go outside today!" Client Githa L. especially, was overjoyed with excitement as she described to me how she pasted together her tree leaves! Functional Eructation Aide, Whitney thought it was a great idea to add a touch of color to their classroom and learn about wildlife at the same time.
It's always a joy when chef Tom comes to visit! This time the clients were able to redo a previous recipe and see if they had remembered it as well. Clients Steve B. and Desda B. leD the class with instruction, as well as someone new who Chef Tom recognized, Client Darrell J. He said Darrell J. was extremely helpful with making the ground beef and he even helped  some of the other clients when he was finished. Chef Tom took the time to express to me how much he loved helping others, and we all appreciate his time he spends with us as well! THANKS FOR COMING CHEF TOM! To add to our list of food prepared this day, Life skills instructor, Sylvia also made her famous seafood pasta that consist of imitation crab, olives, shrimp, carrots, green onions, and tossed in light mayo and mustard. An easy dish for the clients to also make at home!
On Wednesday, we celebrated the birthday of our music instructor, Cody! We surprised him with cake and ice cream. We also cut a special piece for the March birthdays to show them they are appreciated and not forgotten as well.
Friday has finally come, and you could find some of staff: Flora, Alvin, Roseanne, and Cecilia in the kitchen cooking up a famous recipe of homemade spaghetti. As this was happening we sent the Women to enjoy a game of bowling, while the men stayed behind and watched the new Spider Man movie. After the commotion, I caught up with our newest staff member of Elk Grove, Ashley G. I asked her how her first outing was to the bowling alley, she replied, "it was very fun, my favorite part was when client Nikki M. would make a strike and she would start dancing." I was also able to ask a few clients how they felt about our new staff, client The V. said she is a very enjoyable person, and very fun to be around. I would say, Ashley is fitting in great already!
We ended our day with a great performance by the dance troops. Our dance instructor Alvin choreographed a great piece to Celine Dion's "My Heart Will Go On" and the clients really got into character! All the clients wore matching attire of black and white and we were able to visualize their performance through there facial expressions. The clients have been working really hard on this dance piece for over 3 weeks and it was nice to see their hard work pay off!
JUST ANOTHER SUCCESSFUL WEEK HERE AT ELK GROVE!
Have a wonderful Friday afternoon and a great weekend.
GOD BLESS US ALL!!
Thank You,
Flora Landiza
PROGRAM DIRECTOR
Elk Grove Highlights – April 14-18
written by Instructor Sylvia Luu
Hello team,
Hi guys!!! This week at AIM HIGHER of Elk Grove we were busy as always! Vocational was busy learning about team work in the work place and made some collages of people working together in a team setting. Speaking of Vocational Jan came to visit us this Wednesday and all the clients were jumping with joy when Jan gave us some good news of her possibly coming back by the end of this month. We definitely have missed our "Sergeant" and are excited to have her back on the team again soon.
Over in 300 they made some delicious fresh spring rolls wrapped with lettuce, shrimp, chicken, and some rice noodles paired along with a nice dipping sauce made with some creamy peanut butter and a sweet hoisin sauce. It was a perfect dish for the spring season.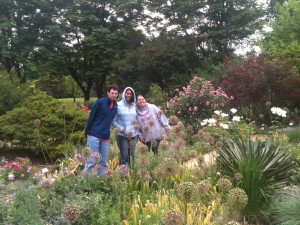 In life skills and functional education both our outings took place at different arboretums one at UC Davis and one at Sac State. We even ran in to Orange Grove at UC Davis. It was unexpected and clients got a chance to have a little meet and greet with each other. After the meet up the clients went for a hike around the arboretum picking up flower, leaves, branches, dirt, pebbles and others things they found on the floor. In celebration of Earth Day coming up soon they then used all the items they found to spell out the word Earth. They were all different, unique and turned out beautifully.
In celebration of Easter we started our annual Easter games this morning. We had all the clients gather in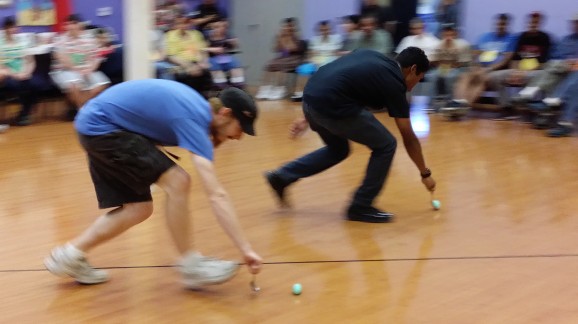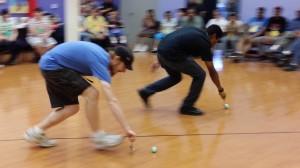 the MP room to start off the games. We started off with our Easter egg relay then our Easter egg sweep. Then we headed outside for some more fun with a water balloon toss. They then headed back in the classroom to scavenge for an Easter egg of their own that was hidden throughout the building. We also had a station where clients were able to dye and decorate their own eggs. To end the day we split into four groups and had an egg drop competition. After clients secured their eggs with newspaper staff climbed on a ladder and dropped the eggs one by one to the ground. Three ended up cracking and only one survived. The clients had a blast and were screaming and laughing throughout the entire day.
I almost forgot to announce this, but this week in art clients were working on a TOP SECRET art project for someone special. Let's just say it involves a sunny day, some paint and many clients being hands on with this project. Since the project is still under construction that's all I'll say I'll leave you guessing till next week. And this painting will be hang on his office.
check out all of our pictures here – click here
Elk Grove Highlights – April 7-11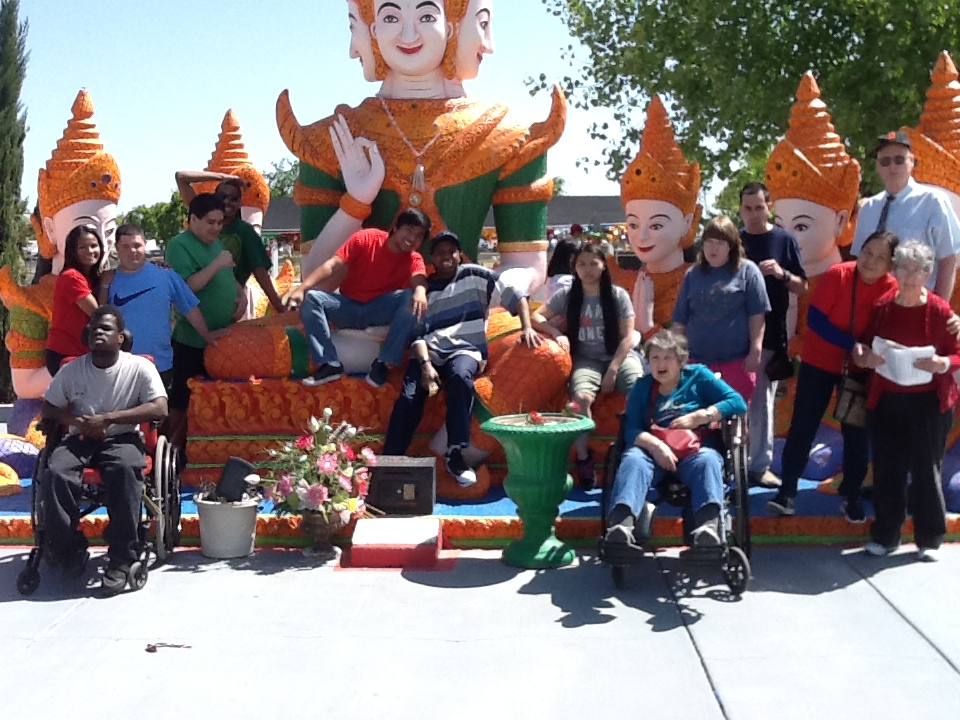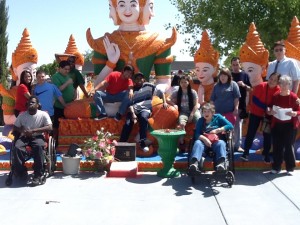 This week at Elk Grove was filled with plenty of spring activities. As we welcomed the hot weather we sprung at the chance to do outside activities/outings. One of the outings included a trip to Sac State. The clients took a visit to see the arboretum and see what type of different flowers they had blooming there. Client Neville could not wait to come back and tell us his findings. Desda shared her favorite part to be the huge tree stump that was bigger than her. The staff there helped her understand how each ring in the tree stump showed the age of the tree. From the markings that were previously there from someone who studied the tree, Desda was able to figure out how old the tree was. Overall, the staff and clients had a great time, and could not wait to come back to program and share their excitement with the others.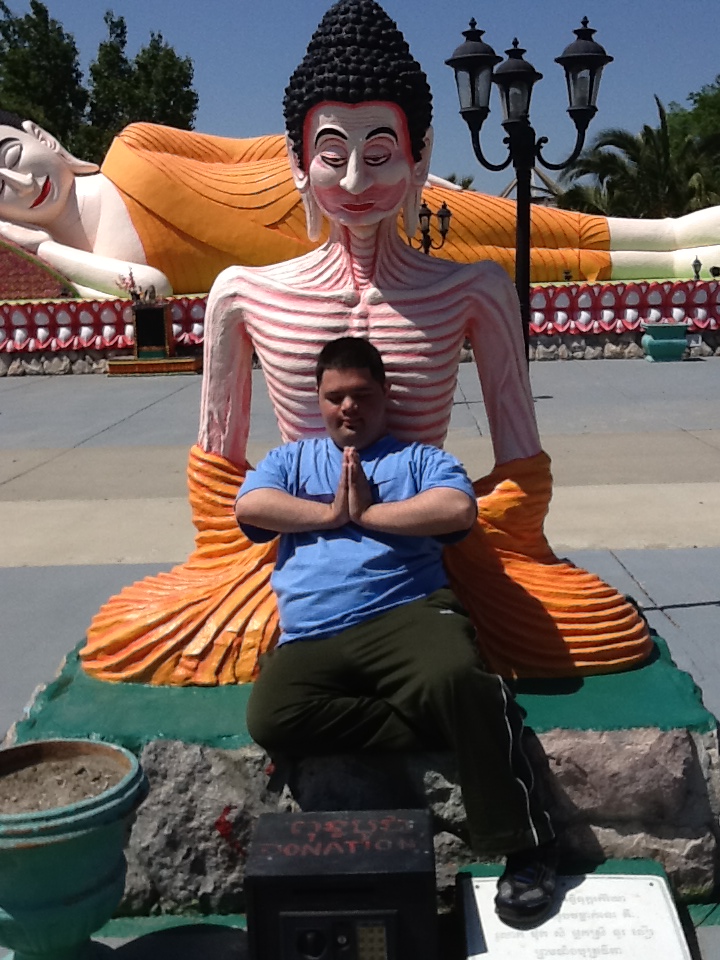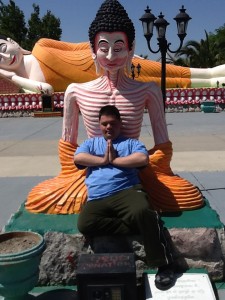 Keeping up with the cultural journey through different continents, this week Fab 5 instructor, Vean taught her class about the History of Buddha. To connect with her lecture, they went on an outing to the Buddhist temple. All the clients were said to be very into it and were excited to learn about the different artifacts.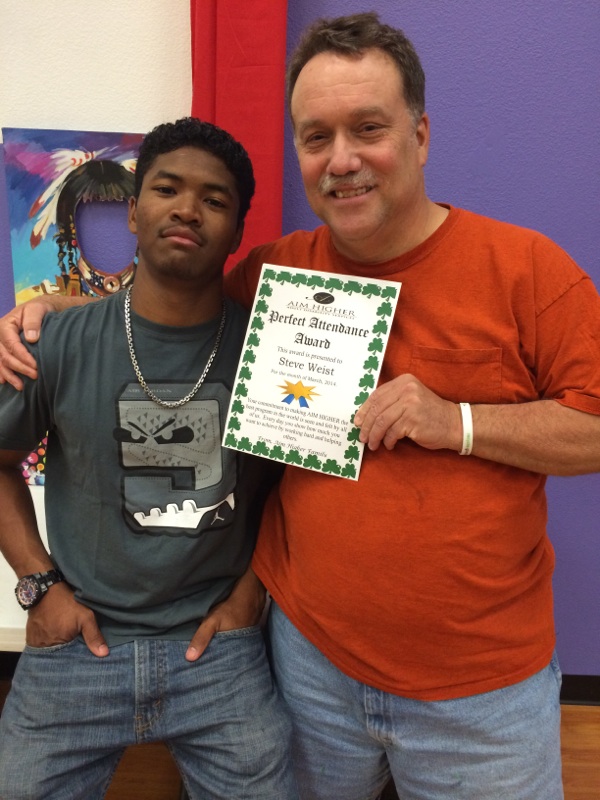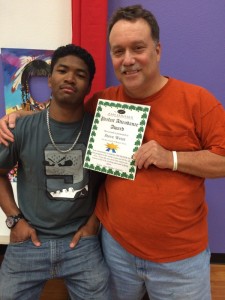 Ending with fun Friday we enjoyed a nice delicious breakfast of eggs, pancakes, sausage and juice. After lunch we called all 62 clients for the perfect attendance ceremony. We even had a special visitor, Jan. She couldn't help herself but join in on the fun festivities. Soon after we all said our goodbyes to Vean. Vean said a speech that almost had everyone in tears. Although we will miss Vean greatly, we wish her the best on her future endeavors and thank her infinitely for all she did to help AIM HIGHER Elk Grove be the best program ever!