Amenities
Enjoy Covina's beautiful, clean surburban setting, efficient, high-quality city services, low crime rate, quality schools and 18 prize-winning parks. Our facility offers an upscale environment that elevates your mood from the minute you walk in.
Community Access Center
Career Services Center
Library
5 Classrooms
Art Studio
Gymnasium
Dance Studio
Game Room
Cafeteria
Counseling Center
Full Kitchen
Location
440 S. Citrus Ave.
Covina, CA 91723
626.339.0400 phone
626.339.4674 fax
440 S. Citrus Ave.
Covina, CA 91723
626.339.0400 phone
626.339.4674 fax
Whats Happening In Covina...
Covina News
The Fantastic 4 (group 4) were also focused on Arts and Expression this week, they were working on making homemade pillows, Veronica, Liz M, Aleja,…
Read Full Story
The "3rd Tribe" group 3 had their focus on Arts and Expression this week. They are recognizing Disneyland's 60th anniversary and focusing on Disney…
Read Full Story
    Group 2 " Tog Dogs" also focused on life skills this week with an awesome "crepes" recipe. Norma, Samson, and Maria made sure group 2 had the…
Read Full Story
More News
Testimonials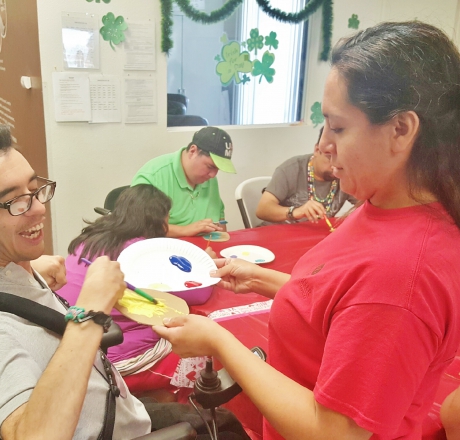 I love the interaction that I get with the consumers being a Covina Program Instructor. Its great being part of their progression and seeing them achieve their goals! My favorite class is Arts and Craft because you get to see their imaginations run wild. I always encourage them to keep going and not to give up because the possibilities are endless!
-John, Covina Program Instructor