Amenities
We opened our doors in 2013 and every client that has made the leap to join us is growing and thriving. We are conveniently centrally located in the heart of Silicon Valley, located right off the highway, in between two major streets (Lawrence Expressway and Great America Parkway). We fortunately are less than a block away from the VTA Lightrail Reamwood Station, a few miles away from the Great America Amusement Park, and only four short stoplights to the brand new San Francisco 49ers Levi's Stadium.
---
~ Find us on Social Media ~
Facebook: facebook.com/AimHigherInc
YouTube: aimhighermedia
---
Gorgeous & spacious facility
Close shopping & parks
Multi-media center
4 iPads available for use
Fitness Center
Graphic Design Classes
Client Council
Public Transportation
Location
1237 Reamwood Ave.
Sunnyvale, CA 94089
408.462.9811 phone
408.462.9812 fax
1237 Reamwood Ave.
Sunnyvale, CA 94089
408.462.9811 phone
408.462.9812 fax
Whats Happening In Sunnyvale...
Sunnyvale News
Our Advanced Placement Program started in October 2014. Clients in this group are social, funny, and goal-oriented. We follow the Fab Five structure,…
Read Full Story
March 27 was AH Sunnyvale's first Art Expo! We prepared by painting, drawing, stamping, and sculpting during all of March. We invited families and caregivers…
Read Full Story
Hannah is a cool artist who has joined the AHSV staff team, and we have been having fun doing great art! [caption id="attachment_6282" align="aligncenter"…
Read Full Story
More News
Testimonials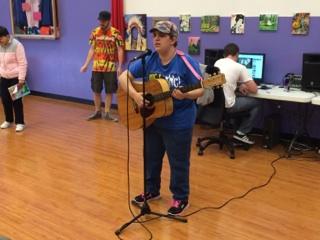 I really enjoy having so many friends here at Elk Grove! We're able to dance and I can sing my favorite country songs during karaoke. The prom last year was pretty cool; it was my favorite!
-Kaitlin, Elk Grove Client